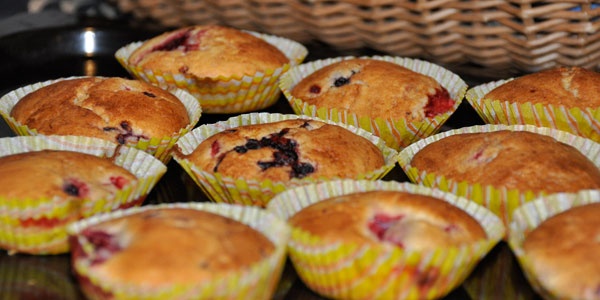 The kids are itchy and the weather is disturbed. Time to bring delight into the home and provide a shine via the baking of Muffins. Berry Muffins no less. What follows is recipe even a child can make. Enjoy
BERRY MUFFINS
This recipe makes 20-25 small muffins. It is a simple recipe, and can easily be made with the help of the little ones. Mine love berries and the muffins quickly disappeared in the mouths of the children.
You need:
100 g butter, left to soften in the room temperature
1 ½ dl sugar
4 eggs
5 dl plain flour
1 tsp baking powder
1 tsp vanilla sugar
1 dl milk or buttermilk
2 dl fresh or frozen berries (e.g. blueberries or raspberries)
Mix the butter and sugar into a puffy mixture. Add the eggs one at the time mixing all the time.
Mix flour, baking powder and vanilla sugar in a separate bowl, and add to the mixture with the milk. Mix gently until smooth. Add the berries, and fold them into the mixture.
Divide the dough into small muffin forms. Bake at 200 degrees C for 15-20 minutes. Let them cool. Then enjoy!