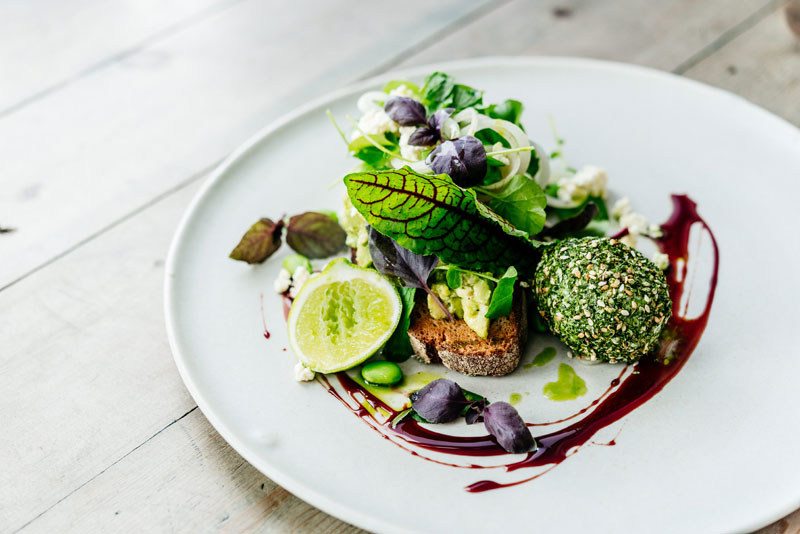 Sunday October 1 marks World Vegetarian Day and New Zealand is a great place to celebrate. Vegetarian and vegan dining is both easy and delicious throughout New Zealand. There's a plethora of places offering wholly plant-based menus and plenty more who let seasonal produce be the hero. Here's our pick of the bountiful bunch to whet your appetite.
An Ethical Eatery
Cafe culture is king in New Zealand – our standards for coffee are set high, with uncomplicated, fresh food following suit. Coffee roaster Kokako not only serves the best ethically traded, organic coffee in town, they also offer a completely vegetarian menu (much of it also vegan), showcasing the best of seasonal, organic produce in unfussy, delicious dishes. Try their blends and single origins in espresso or batch brews. Plus there's kombucha and popular nitro cold brew coffee on tap.
Hunters and Gatherers
Gatherings is a "living wine bar and restaurant" by talented young chef Alex Davies, whose wholly plant-based cuisine is inspired by the bounty of the Canterbury region's distinct seasons. Walking the talk, Davies spent a year working on an organic vegetable farm in north Canterbury in order to learn more about sustainable food systems. The five-course dinner set menu costs a very reasonable $60, or you can opt for snacks at the bar. There's an "organic and living wine list" to accompany the cuisine and the space often hosts live performances organised by Davies' partner, singer-songwriter Bryony Matthews.
Left of Centre
It's a recipe for success: a seasoned fine-dining chef, a Spanish Mission-style stucco building at the end of a palm-lined driveway, and the stunning countryside of New Zealand's Hawkes Bay "food bowl". Then there's the food. At Ten Twenty Four, his kitchen counter cluttered by bottles of locally grown garnishes – edible flowers, fronds, shoots and leaves – chef Kent Baddeley transforms left-field ideas into remarkably delicious dishes. Ten Twenty Four isn't an exclusively vegetarian kitchen, but seasonal, hyper-local produce is the star and those with dietary requirements are well catered for.
Taco Temptations
Vibrant Mexican flavours abound at Boquita. This bijou central Wellington spot features a concise organic plant-based menu of tacos, salads and sides made with fresh local produce and top-quality ingredients that the proprietors import directly from Mexico (browse the selection for sale). You can park up at the bench to dine, but if it's a fine day, grab your goodies and have a picnic at nearby Oriental Bay or up on Mount Victoria, also close, gazing down on the city.
A Bird in the Hand
The raw cuisine Little Bird Unbakery in Auckland's Ponsonby certainly won't leave you feeling cold. In this warm, bright space, you'll feel the love and attention of the kitchen in everything on the menu, which is predominantly raw, with a few cooked items. Fresh coconuts are cracked open for smoothies, kimchi and kefir are made onsite, as are sprouted breads, nut milks and cheeses. As well as great coffee and an arm-long list of juices and smoothies, there's a wide range of teas.