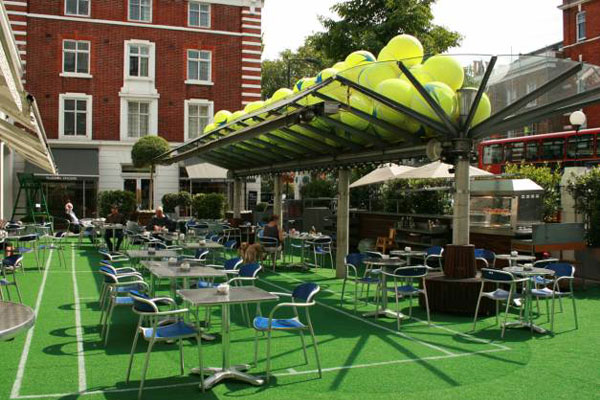 Bluebird Chelsea is delighted to announce the continuation of their partnership with Moet & Chandon during summer 2013. The courtyard has been launched officially with a Roaring 20's themed party on Wednesday 15th May to tie in with the UK premiere of the Great Gatsby which Moet & Chandon have a partnership with.  There was champagne by Moet & Chandon and Canapés by Bluebird.
Bluebird's General Manager, Jean-Baptiste Requien says, "This summer is set to be the biggest and most exciting ever. We are delighted to have teamed up with Moet & Chandon again.  From film screenings, to tennis, to the Chelsea Flower Show's 100th anniversary, the Season at Bluebird will be the best one yet."
From Monday 24th of June and continuing until Wednesday 26th June, Bluebird will be hosting exciting outdoor movie screenings on its large outdoor 3m television with films to include The Great Gatsby, Dirty Dancing and Top Gun.
Bluebird's Courtyard, for the 5th year running, will be transformed into the next best thing to Centre Court with the green lawn and screen all the tennis live from SW10. The fortnight will reach championship point over the weekend of the 7th July where we will be taking bookings for the Men's Wimbledon Finals where guests can enjoy an exquisite 3-course lunch in the sunshine watching all the action. Following the tennis Bluebird will hold a Wimbledon closing party in our Courtyard complete with a Pimms bike and succulent hog roast.
After all of the tennis, for anyone feeling energetic, we will be holding al fresco yoga in association with triyoga on Tuesday 9th July.
Alternatively guests can enjoy our Rosé Rocks Summer Lunch menu in the restaurant from 1st June 2013. A seasonal one course dish with a glass of Rosé for £15.00, as well as our A La Carte menu.
Tweet