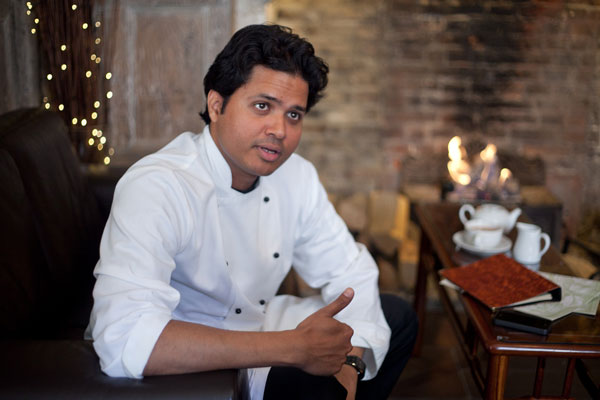 The Ambrettes' Dev Biswal calls for clamp down on "endemic" tax evasion – and offers to work for free for HM Customs and Revenue
Dev Biswal, the owner chef of the award-winning 'Ambrette' restaurants in Kent and Sussex, has bucked the industry trend by backing the Chancellor George Osborne's proposal to raise minimum wage.
Biswal has also called for a government to clampdown on the widespread tax evasion within the catering sector, which he describes as "endemic".
He believes that better wages for the low paid working in restaurants, pubs, hotels and cafes would benefit both the catering sector and the wider economy as a whole.
Biswal, whose father recently retired from a senior post at the Bank of India, believes the short-term pain felt by restaurants' rising wage bills, would be quickly offset by increased takings – especially if offset by a cut in employers' national insurance contributions.
"Paying a living wage, would put more money in the hands of kitchen and waiting staff – which would be spent on the high street, boosting company profits and restoring the balance sheets in the beleaguered banking sector," said Biswal.
"We seem to have a mentality in this country where the wealthiest people need generous tax breaks and enormous bonuses, whilst those at the bottom of the heap need to have their living standards cut," he said, adding, "But economic history shows that businesses do better when ordinary people have a rise in living standard, not the other way round."
Biswal says that someone working full-time on minimum wage, supporting a child and partner is typically entitled to benefits of around £1500 a month.
"This means the government is subsidising exploitative employers, many of whom are national and multi national concerns, which make hundreds of millions in profits and pay enormous boardroom salaries and bonuses.
The Ambrette pays its entire staff above the minimum wage, invests heavily in staff training and has full restaurants and a crammed awards trophy cabinet.
However, rival restaurants including leading establishments in London, attempt to lure away staff with cash inducements, which are intended to cheat the taxman.
"Tax evasion is endemic in the restaurant business – most experienced staff I interview have received at least part of their wages in cash, with no deductions for tax or national insurance," said Biswal who is offering free consultancy advice to the taxman on how to beat the cheats.
He would start with by outlawing a "back door" software function on modern cash registers whose sole purpose is tax evasion.
He would also send mystery dinners into restaurants to pay for meals with cash, then ask for restaurants to account for the payment at regular VAT inspections.
Biswal believes many restaurants "pocket the cash" only declaring credit card and cheque payments and urges customers to stop paying with cash – if they want to see the government investment in roads, schools, state pensions, housing and sea defences.
He believes enormous quantities of undeclared cash is taken abroad by owners of ethnic restaurants and their families – usually to buy properties in their home towns.
"Why else do children need two grand pocket money on a cheap family holiday?"
Biswal currently has two restaurants, in Margate and Rye, employs 22 staff – but plans to double that number by April, with the opening of two additional venues and a centralise kitchen facility during April – ahead of continued expansion in 2014 and 2015.  All employees are paid above minimum wage – although it has used it briefly as an introductory "training" wage for past apprentices.
Tweet