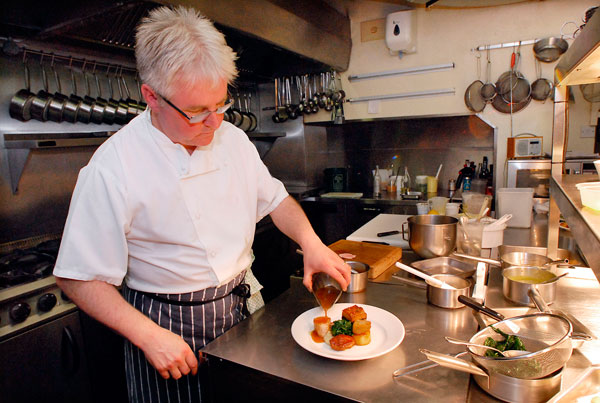 Bryan Webb, Michelin star chef at Tyddyn Llan restaurant with rooms in Denbighshire, has been joined by acclaimed chef Ian Bennett – the pair have been friends and colleagues for more than thirty years.
Now the culinary craftsmen will join forces on a permanent basis as Ian joins Bryan, who is also a Masterchefs Fellow,  in the award-winning kitchen at Tyddyn Llan.
Bryan and Ian forged a firm friendship when they worked together in Colin Pressdee's renowned Swansea restaurant, The Drangway, in the 1980s.
Ian then worked at Bryan's London establishments, before setting up his own successful restaurant, The Welcome to Town, in Llanrhidian on Gower.
"I had been looking for someone to help me build on the successes my wife Susan and I have created here at Tyddyn Llan," explains Bryan.
"The timing was perfect as Ian was looking for a new challenge."
Ian, who has worked at many top establishments throughout the UK, including the three Michelin star Waterside Inn owned by the Roux brothers, will bring his passion for pastry to the Tyddyn Llan table, and a host of new ideas for creating fabulous food.
"Although I am totally hands-on, and I have the burn marks on my arms to prove it, nobody can work seven days a week," says Bryan. " Now, when I go away, I know the kitchen and the customers are in totally safe hands."
Ian adds,
"Bryan and I go back a long way, so we know that we get along in the high pressure environment of a busy kitchen, so  working side by side will be no problem."
Tyddyn Llan offers a wide range of menu choices from a bargain two-course lunch at only £21.00 through to a full blow-out 9-course tasting menu.  a 6-course tasting menu and a 3-course dinner menu with a wide range of seasonal dishes such as: sewin, lobster, crab, wild bass with laverbread, new season's spring lamb, local Welsh black beef and ducks from Goosnargh.
Tweet