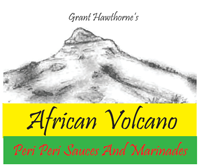 Are you an amateur cook?
A foodie with flair in the kitchen?
A professional chef?
We're "Great Taste" Gold Award-Winning
African Volcano
and we have a challenge for you.
Help us celebrate our first birthday and you could win a Thermomix TM31!
Other prizes include African Volcano Sauce & Marinade packs, South African Wine and a fantastic Cape Wine Academy course for 2 people.
We want you to create two original recipes using our medium Peri Peri sauce and Marinade, and get them to us on paper by noon on Tuesday 30th April 2013.
Successful finalists will be invited to prepare and present their dishes at the cook-off at the Central Street Cookery School on Monday 20th May 2013.
There is no entry fee! Plus, all entrants will be entered into a draw to win a mixed case of 12 bottles of African Volcano.
Each finalist will receive a chef's "bib apron", a bottle of South African wine and our mixed case.
The 3rd place prize winner will receive 12 bottles of assorted South African wine and our African Volcano mixed case.
The runner-up will receive a Cape Wine Academy introductory course for 2 people plus our mixed case.
The Winner will receive a Thermomix TM31 plus, of course, a 12 bottle combination pack of African Volcano Peri Peri Sauces and Marinades
Don't sweat the small stuff, just the small print.
Who can enter
This competition is open to any amateur cook; food writer/blogger and professional chef, aged 18years and older. The ENTRANT must be resident in the United Kingdom.
The five categories you can submit your recipes under are as follows:
Vegetarian/ Vegan; Seafood/ shellfish; Meat; Chicken; "other"
What do you have to do
Each applicant must submit two original and innovative recipes using African Volcano sauce and/or marinade as a key ingredient. It's all about the flavour.
Recipes that do not feature use of the sauce and/or marinade will automatically be disqualified. Sorry!
Entry requirements
Only online entries will be accepted.
You can find us at www.africanvolcano.com
Please see the attached rules for full details of the competition.
The paper judging of the competition will take place on Monday 6th May 2013 so entries must be received by 11:59am Tuesday 30th April 2013.
The successful finalists will be required to prepare and present their creations at a cook-off at Central Street Cookery School * on Monday 20th May 2013. Finalists will be given 2½ hours to prepare their dishes.
Finalists must supply all their own ingredients, specialist equipment and presentation plates/ glasses etc.
Thank you and good luck!
* Central Street Cookery School, 90 Central Street,London EC1V 8AJ
Tweet