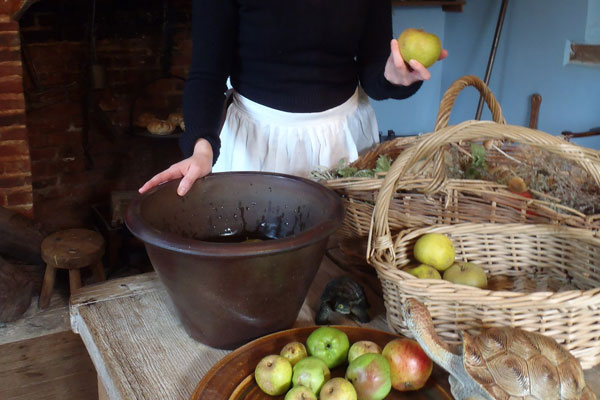 Sip, savour and smell the scent of an 18th century mulled wine recipe created by naturalist Gilbert White on Sunday, 1st December at his former home in the village of Selborne, East Hampshire.
The mulled wine day at Gilbert White's House & Garden and The Oates Collection marks the beginning of festive celebrations, when the house will be bedecked with decorations and greenery from across the centuries and the gift shop packed full with tempting presents for friends and family. Some of the team
will also be dressed in 18th century costume to help recreate the atmosphere of a bygone age.
Enjoy a warming glass served in the Old Kitchen, while the choir performs in the Great Parlour. Explore the house and admire the beautiful flower arrangements in keeping with each room's period in history; quite a challenge as the rooms range from original 17th century to early 20th, with additions in each century between. Then join the gardeners as they go apple wassailing in the orchard grove, a tradition that goes back to the Middle Ages. There will also be seasonal activities for children.
The award-winning Tea Parlour will be serving a light lunch and delicious teas and cakes and you can also discover the stories of three great explorers of the natural world in the unique galleries. These include the pioneering 18th century naturalist, Gilbert White himself; Captain Lawrence Oates of the final Scott Antarctic expedition of 1911-1912, and Victorian explorer of Central America and Africa, Frank Oates.
Open 10.30am until 4.30pm, a reduced admission price of just £5 for adults and £2.50 for children includes all the museum has to offer and a glass of mulled wine (or soft drink option). There is free parking a short distance away in the village car park, behind the Selborne Arms
Tweet