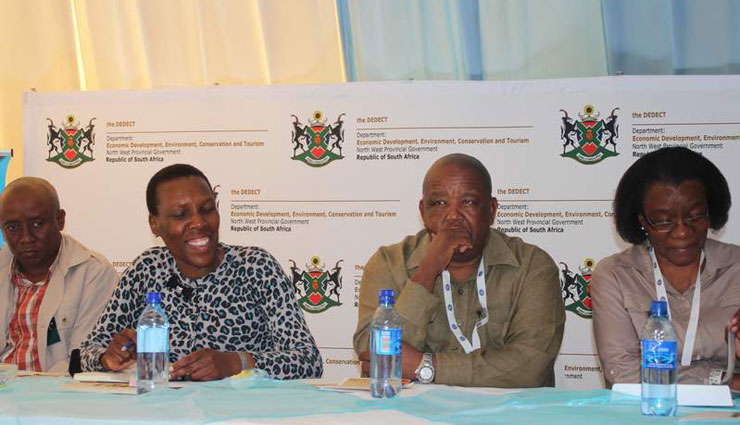 Plans by government to start classes in 2015 at Taung Hotel School are well underway, North West MEC for Tourism Desbo Mohono said after her visit to the institution.
MEC Mohono, who visited the institution this week, confirmed that Taung Hotel School and Convention Centre, currently under refurbishment, will be ready and fully operational for the 2015 academic year.
She said the establishment should not only be seen as a training facility but it should also serve as a sanctuary of poverty eradication for the people of Taung.
"This institution should be a pedestal for socio-economic transformation in this area. It should bring tangible change in the ordinary lives of the people, especially the locals before it benefits surrounding areas.
"As government, one of our quests to turn around the tide of poverty and establish this hotel school in a rural town like Taung will definitely make an impact," said MEC Mohono.
Addressing staff at the institution, MEC Mohono encouraged them to take pride in the school. She said they should protect it at all times and ensure that it succeeds in all its endeavors.
"This institution belongs to you. Take care of it and in return it will also take care of you. Once it is fully operational, there will be jobs created for the locals and there will also be local economic stimulation, which will greatly benefit the locals," said MEC Mohono.
Academic manager Herman Phetlhe said the school is looking at accepting about 30 students in various courses for 2015.
"For [next] year, we are going to start off with three courses which will be offered at a two-year National Diploma level. We will be offering a National Diploma in Professional Cookery, National Diploma in Food and Beverages and National Diploma in Accommodation Services.
"We will then gradually increase our academic scope and courses in due time. We will add two or three courses every year until we have a full-fledged academy and faculty," Phetlhe said.
He said there will still be major construction and refurbishments taking place at the institution.
"Once completed, it is envisioned that this institution will boast a fully-fledged academic complex with lecture halls and full academic staff. There will also be student accommodation complete with recreational parks and sports field."
The Taung Hotel School and Convention Centre was officially launched in April 2014 after the North West Development Cooperation acquired the former Taung Tusk Hotel from the Peermont Group due to a need for the province to establish a second hotel school. – SAnews.gov.za