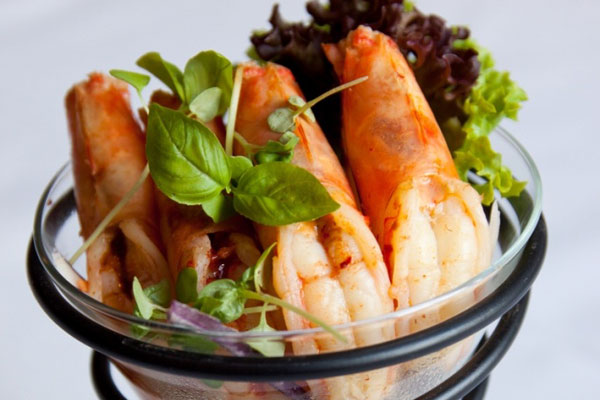 Guests will be treated to interactive cooking demonstrations, cocktails, and a three course meal consisting of fresh, authentic Thai dishes. Ian will also be talking to guests, answering questions and giving a unique insight into Thai cuisine and culture.
Ian spent most of his childhood living in Hong Kong where he realised his passion for Asian food and culture. With a strong understanding of Cantonese Ian went on to train in Singapore, Thailand, Malaysia, Vietnam and China before returning home to share his passion for the Orient.  He now brings his knowledge and experience of Thai cuisine to the flourishing Mango Tree group.
Mango Tree is an uber-chic, sophisticated restaurant based in Belgravia, serving the best in authentic, traditional Thai food. Part of parent company Coca Restaurants in Asia, Mango Tree is its flagship Thai restaurant in Europe and has won numerous awards, commending food creations and polished service.
Thai cuisine's subtle layering of flavours is increasingly replacing the ubiquitous Indian curry as the nation's favourite food.  Mango Tree's spacious, welcoming interior is carefully lit, reminiscent of the restaurants in Thailand, and has been feng-shui designed to enhance the dining experience. Guests will appreciate the traditional Thai service and world-renowned hospitality.
The splendour of Thai always contributes to an evening of tasty online bingo where your chances are high on the bingo site. With the divine enjoyment of Thai food which is internationally renowned for its spicy tangy taste, whether it be chilli-hot or not, harmony is the guiding principle behind each dish. Thai cuisine is essentially a relationship between centuries-old Eastern and Western influences which have combined to create a uniquely Thai taste.
Mango Tree offers innovative yet classic cuisine of the highest calibre. Using the very finest ingredients sourced from the best suppliers, both locally and abroad, the restaurant serves genuine Thai dishes from each of the four main culinary regions: rich and mild dishes from the North, spicy food from the East, mild dishes influenced by the Chinese cooking style from the Central region, and hot and spicy food from the South.
Ian Pengelley's masterclasses will give diners an exciting introduction to our extensive menu, so come along and taste our delicious food and meet our much in demand chef, Ian Pengelley.
The appreciation of Thai cuisine can be seen by the number of Thai restaurants that have been launched since the 70's. At the time there were only four in London, now the number is in the hundreds. A sure indication of the tasty appreciation of this cuisine which following a survey a decade ago came placed it as high as a named and enjoyed cuisine.