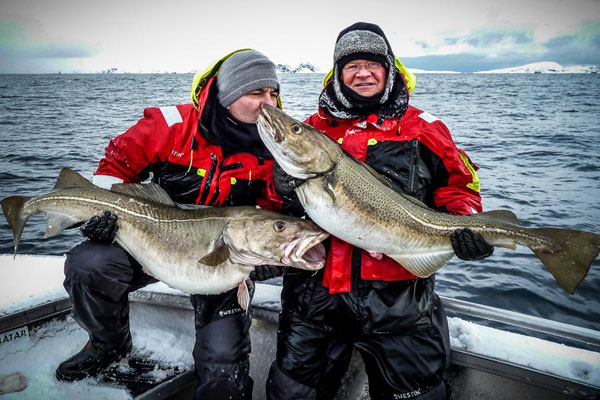 Skrei cod fishing in Norway has an enchanting history with at least 1,000 years of recorded seafaring and fishing heritage, dating all the way back to the age of the Vikings.
Skrei Cod Norway's White Gold
The nutritional and commercial values of this white gold have undoubtedly helped shape Norway into the country it is today. UK chefs and foodies are enjoying the seasonal delicacy more than ever as the fresh and plentiful prime cod hits restaurant menus and becomes more accessible in retail for the biggest cod market in the world.
"You could say that Norway was built on Skrei," says Jack-Robert Møller, UK Director of the Norwegian Seafood Council UK. The annual arrival of Skrei cod between January and April has been cause for great celebration ever since the age of the Vikings, both for its nutritional and commercial values.
With over 100,000km coastline, the Norwegians learnt to preserve and use almost every part of this protein rich seafood, catching and drying Skrei cod since Viking times and exporting it since 875AD. The climate in Northern Norway allowed the Vikings to dry this protein rich 'white gold', without salt, hanging them up in the wind in the early spring after their catch, and taking it on voyages as a source of nutrition and currency along their trade routes.
Indeed, Skrei provided the Vikings with enough protein to travel the vast distances by boat to became the first Europeans to discover the American continent. It also enabled the ancient Norse people to live far north in lands otherwise uninhabitable during the long and dark winters.
Skrei was considered so precious at one point in time, that fishermen were ordered to pay a Skrei tax to King Øystein I Magnusson (reigning period: 1088-1123). This tax meant that each fisherman had to give the King five of these valuable fish, proving so lucrative that it helped fund the build of Norwegian landmarks including Nidaros Cathedral in Trondheim, the largest medieval building in Scandinavia.
Today, Skrei is enjoying its sixth season in the UK – the biggest cod market in the world, mainly fueled by a love affair with fish and chips – and its popularity among chefs and foodies is growing. Following her fishing success last season, Monica Galetti also chose to place Skrei on her opening menu for Mere, London. In addition to the many restaurant menus graced by Skrei, the prime cod is also stocked during season (Jan-April) by Whole Food Market, Booths, Selfridges and Harrods, in addition to quality fishmongers.
Remarks from Jack-Robert Møller, Norwegian Seafood Council UK Director
"Cod has always been one of UKs favourite species. A long time ago, before 1850 when the fish & chip revolution began, cod was consumed as a natural product delivered fresh, dried, salted and cured. Today the UK is world's largest cod market but only circa 10% of the cod consumed comes from UK waters – 60 to 70% is from the Barents Sea, the world's biggest cod and haddock stock – so delivering Quality-Labelled Skrei, fresh to the UK market throughout its season is very special for us.
It has been highly encouraging to see the demand for Quality-Labelled Skrei increasing since its introduction to the UK in 2012 – sales have tripled in this period. We have strong support from the premium retailers, not to mention the finest chefs, fishmongers and of course our distribution partners.
In Norway, we still have the same traditions and every year when the Skrei seasons starts, all Norwegian households cook their Skrei mølje to their own secret recipe, which includes Skrei, cod liver, cod roe, cod stomachs and cod tongues, and they enjoy this together several times during the season from January to April.
We always take great pleasure watching and learning from UK chefs and foodies cooking with Skrei when the four month season comes around and this season has been no exception."