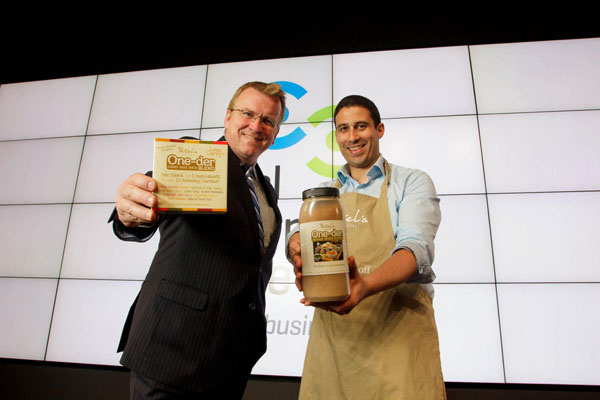 Small Irish food producers should aim to take a "bigger slice" of the growing export market for Irish-made food and drink in 2015, which was worth an estimated €10 billion last year*.
Food Producers Export Market
That's according to the organisers behind The Dublin Food Chain event in October, which is the flagship food event during this year's Fingal Enterprise Week (October 6th to 10th).
The aim of the October 7th event, under the theme of 'Food on the Move' is to enable small food producers and start-ups in the capital connect with buyers across retail, food service and wholesale nationally and internationally.
The Dublin Food Chain, which is supported by the Local Enterprise Offices, Bord Bia and the Irish Exporters Association, has invited food and beverage buyers from Ryanair, Bewley's Coffee and Topaz to share insights and industry 'top tips' with food producers, looking to make a breakthrough into new markets.
New consumer research from Britvic, along with food manufacturer master classes from successful Irish brands based in Fingal, Keelings and Country Crest, are also on the menu at the Dublin Food Chain.
Oisin Geoghegan, Head of Enterprise at the Fingal Local Enterprise Office and the organiser behind Fingal Enterprise Week, said that more small Irish food producers and start-ups should aim to break into export markets next year.
He said: "Exports of Irish-made food and drink grew by 9% in 2013 and could reach €12 billion by 2020, according to Bord Bia. Irish food and drink brands are benefitting from this growth and there are substantial new market and sales opportunities for smaller food producers and new start-ups as well. At the Dublin Food Chain during Fingal Enterprise Week, we're bringing smaller food producers and new start-ups face to face with buyers, which can help them unlock the export potential within their food brands."
Ten up and coming Irish food manufacturers are also being offer the opportunity to host tastings at the event, which is taking place at the Radisson Blu Hotel at Dublin Airport.
Fingal Enterprise Week is the largest enterprise week of its kind in the country, with 1,500 small business owners and start-ups taking part in over fourteen events. It's supported by Vodafone, Bank of Ireland, Regus and Newstalk.
Bookings for the Dublin Food Chain event on Tuesday, October 7th can be made on-line through www.fingalenterpriseweek.ie and a nominal booking fee of €10 applies per person. The social media hashtag for all events during Fingal Enterprise Week is #few14.