Publishing: 1st April 2011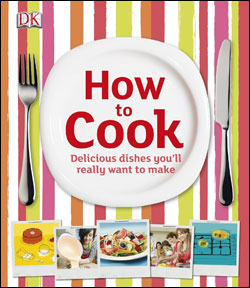 Price: £12.99
A practical and stylish introduction to creative cooking and a love of good food
Bored of beans? Sick of soup? Whether you're just heading off to university or in your first few years away from home, then being able to cook for yourself is a great source of independence and a good way to save the pennies. However, many cookbooks aimed at students can often be uninspiring, detailing the many variations of beans on toast. How to Cook is the perfect illustrated cookbook for young adults, offering the practical know-how and confidence to create a range of delicious and healthy meals, whether it's for yourself or to impress friends and family.
Featuring over 40 easy-to-follow recipes from cuisines around the world, cooks will learn how to create a balance of healthy meals and treats, including perfect party snacks, quick meals on the run and fancy dishes to impress. A separate 'Back to Basics' section, offers comprehensive and practical advice on essential cooking methods, such as preparation and baking techniques and how to make perfect pastry, building up essential cooking skills.
From Spanish Omelette and Pad Thai to Fruit Crumble and Brownies, each carefully selected recipe is clearly presented with step-by-step instructions and stylish artworks, whilst a stunning photograph of the finished dish will inspire you to see the results that can be achieved with a little creativity. Further ideas for variations on recipes, including vegetarian options, and key cookery tips will encourage budding chefs to experiment with ingredients and create great dishes they will cook time and time again.
A lively, fun and sophisticated introduction to cooking, How to Cook is the perfect gift for teenagers and students just starting out, to inspire them to whip up their own kitchen creations and become enthusiastic about food for life.