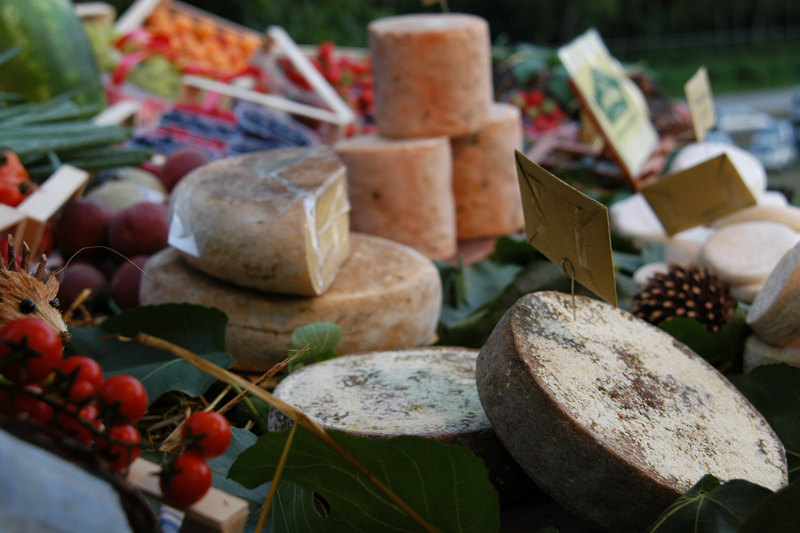 Food and Wine Events – Autumn and winter in Italy are magical, as the days draw in you can experience a variety of events that will keep your body and mind warm and satisfy your senses. Experience the warming smell of roasted chestnuts, the precious aroma of truffles, a delicious cup of hot chocolate, a glass of robust red wine. Here is a selection of food and wine events in Italy this autumn and winter.
Food and Wine Events in Italy this Autumn and Winter
CHEESE FESTIVAL IN BRA
Bra, Piedmont
20-23 September 2019
www.cheese.slowfood.it
This event takes place every two years in Bra, Piemont and it is organized by the Slow Food Movement. You can taste the best in the local and international cheese markets, attend a workshop, music shows or other events organized around this Fair.
FOOD AND WINE EVENTS IN EMILIA ROMAGNA
Sept – Nov 2019 in various locations
www.winefoodemiliaromagna.com
Parma Ham, Parmesan Cheese, Fossa Cheese, Balsamic Vinegar, Lambrusco wine , these are only a few of the incredible foods on offer in Emilia Romagna. In autumn and early winter there is a variety of events to tempt the gourmet visitors: Valtidone Wine Fest near Piacenza (Sept), Fossa Cheese in Talamello (Nov.), Olive oil in Coriano near Rimini (Nov.), Fish Festival in Cesenatico (Nov), Eel Festival in Comacchio (Oct), White Truffle in Sant'Agata Feltria near Rimini (Oct) and the November Porc, a celebration of Parma Ham, Culatello, salami and more in the province of Parma.
SAGRA DELL'UVA – GRAPE FESTIVAL , MARINO, near Rome
Marino, near Rome
3-7 October 2019
This famous grape and wine festival takes place every year on the first Sunday of October (since 1925) in Marino, a medieval village in the Castelli Romani area south of Rome. In the morning a traditional procession in honour of the Madonna del Rosario, takes place along the main streets and the statue of the Virgin Mary is transported on a richly decorated 18th century gilded cart and terminates with the offer of grapes and a cup of wine to the statue to propitiate the forthcoming grape harvest. In the afternoon, a civil procession takes place with members of the public dressed in rich renaissance costumes and allegorical carts bedecked with vine leaves and bunches of grapes. More importantly, wine instead of water starts flowing from the public fountains in Marino, so the visitors can taste the golden yellow wine for which Marino is renowned.
More info at: http://www.sagradelluvamarino.it/ 
BOCCACCESCA in CERTALDO
Certaldo near Florence, Tuscany
4 – 6 October 2019
www.boccaccesca.it
The charming Medieval part of Certaldo in Tuscany holds every year a food and wine fair to pay homage to the great writer Boccaccio, famous for his love of food and the good life, who was born in the town. Food stalls, wine tastings, music and shows will entertain the guests in this beautiful corner of Tuscany. This edition will be dedicated to flowers, their perfume, their colour and their taste!
EUROCHOCOLATE, PERUGIA
Perugia, Umbria
18 – 27 October 2019
www.eurochocolate.com
This will be the 26th edition of Eurochocolate, the annual delicious appointment in the lovely town of Perugia for all lovers of chocolate, professionals in the field and importers. Tastings, exhibitions, workshops, shows for the 10 days of the duration of this festival. This year's event is dedicated to the celebrations of its silver anniversary.
WHITE TRUFFLE FAIR IN ACQUALAGNA
Acqualagna, Marche
27 Oct / 1-2-3-9-10 November 2019
www.comune.acqualagna.ps.it
Acqualagna's central square, Piazza Mattei, hosts the Fair with over one hundred stands, where you can buy fresh truffles and other local quality products such as cured meats, wine, honey and cheese. The town has been recognized as the "Capital of Taste", thanks to its quality products, tradition, history and authentic flavours. The white truffle is the most valuable on the market in terms of its nutritional properties and price.
WHITE TRUFFLE FAIR IN ALBA
Alba, Piedmont
5 Oct – 24 November 2019
www.fieradeltartufo.org
This will be the 89th edition of this popular fair dedicated to the extraordinary delicacy that is the Alba White Truffle. A myriad of events spanning from: cinema festival, medieval representations such as the Palio degli Asini (6 October), beauty contest, wine tastings of the famous Barbera and Barbaresco wines, food-related events, theatre, music to culminate with the world famous Truffle market for the best and biggest truffle.
NATIONAL CHESTNUTS FAIR, CUNEO
Cuneo, Piedmont
18 – 20 October 2019
www.marrone.net
This is the 21st edition of the National Chestnut Fair in Cuneo. The event fills the old town with tastes, aromas, sights and sounds for four full days and attracting exhibitors from all over Piedmont and beyond.
EIN PROSIT, food and wine festival in Friuli Venezia Giulia
Preview: Tarvisio, Friuli Venezia Giulia 22 – 23 October 2019
Event: Udine, Friuli Venezia Giulia 24 – 28 October 2019
www.einprosit.org
Ein Prosit, one of the most important food and wine events of the Friuli Venezia Giulia Region, organized by Consorzio di Promozione Turistica del Tarvisiano, di Sella Nevea e Passo Pramollo, in collaboration with the Region of Friuli Venezia Giulia; it is held in November in Tarvisio and Malborghetto. The main event is the "Show-Taste" in Palazzo Veneziano in Malborghetto with the presence of about 150 producers, divided into a section called "Vineyard", dedicated to  wines from indigenous grape from Friuli Venezia Giulia, from Italy and the neighboring Austria, Germany, Croatia and Slovenia, and one called "Culinaria" dedicated to producers of quality food products.
FORMAGGI IN PIAZZA – CHEESES ON THE SQUARE IN SONDRIO
Sondrio, Lombardy
16 – 17 November 2019
http://www.visitasondrio.it/site/home/eventi/formaggi-in-piazza.html
This yearly festival of unpasteurized milk cheese, in its 14th edition, is a showcase of cheeses from Lombardy and Piedmont mountains and offers tastings, music, workshops, guided tours, mountain bike excursions and themed menus in bars and restaurants.
GARDA CON GUSTO – LAKE GARDA
Riva del Garda, Trentino
1 – 3 November 2019
https://www.gardatrentino.it/it/Garda-con-gusto-riva-del-garda/
Three days of full immersion in the traditions and innovations of the gastronomic offer of Lake Garda and Trentino. The main local delicacies is Carne Salada (salted meat), but the region also showcases: extra virgin olive oil, broccoli from Torbole, fish from the lake, vegetables from Val di Gresta, beers, wines, coffee and cakes, all with the background of Lake Garda and the mighty Dolomites.
MERANO WINE FESTIVAL& CULINARIA FOOD FESTIVAL
Merano, South Tyrol
8 – 12 November 2019
www.meranowinefestival.com
Information, culture and the social world of wine are united at the Kurhaus, the famous Art Nouveau building in the heart of Merano. Fine wines and haute gastronomie are brought together with the simple unifying idea of "true excellence". More than 500 selected Italian and international vintners and over a hundred producers of the very best in gastronomy are at the heart of what is on offer here, bringing to the event a selection of the highest quality products available on the market.
FRANTOI APERTI (OPEN HOUSE AT THE OIL MILLS) in UMBRIA
Various locations, Umbria Region
2- 25 November 2019
www.frantoiaperti.net
The "Open House at the Oil Mills" will offer 4 fabulous, not-to-be-missed weekends for rediscovering a truly one of a kind product, olive oil. Loads of events will be hosted throughout Umbria along the Oil Dop Road during the extended edition of "Open House at the Oil Mills" dedicated to Dop Umbria extra virgin olive oil to be held in participating towns and oil mills along with entertainment and cultural initiatives.
FESTA DEL TORRONE, CREMONA
Cremona, Lombardy
16 – 24 November 2019
www.festadeltorronecremona.it
Torrone is the sweet nougat typical of Cremona, now famous all over the world. This year Cremona dedicates 9 days to its delicious creation with stalls selling all types of torrone, shows, music, historical re-enactments, typical Cremonese meals to be enjoyed in the many restaurants of the city and the construction of a giant torrone in the main piazza.
CIOCCO SHOW IN BOLOGNA Bologna
21 – 24 November 2019
www.cioccoshow.it
Ciocco Show in Bologna is as major event dedicated to chocolate pays homage to the food of the gods: a schedule of tasty treats, fun, culture and shows, with an eye to fair trade, to promote a shorter supply chain (from cocoa to chocolate) and ensure that the right compensation is paid to raw material producers.
FIERA DEL BUE GRASSO IN CARRU' Carrù (Cuneo), 12 – 15 December 2019
http://www.cuneoholiday.com/index.php?id=310&evento=1362&L=0
The "Fat Ox Fair" is an irresistible event- a living mix of local traditions, excellent food, competition, good wine, colourful people from bull breeders to bull buyers, markets and emotions held in the picturesque Langhe wine region. Eat the famous "bollito misto" to complete your day!