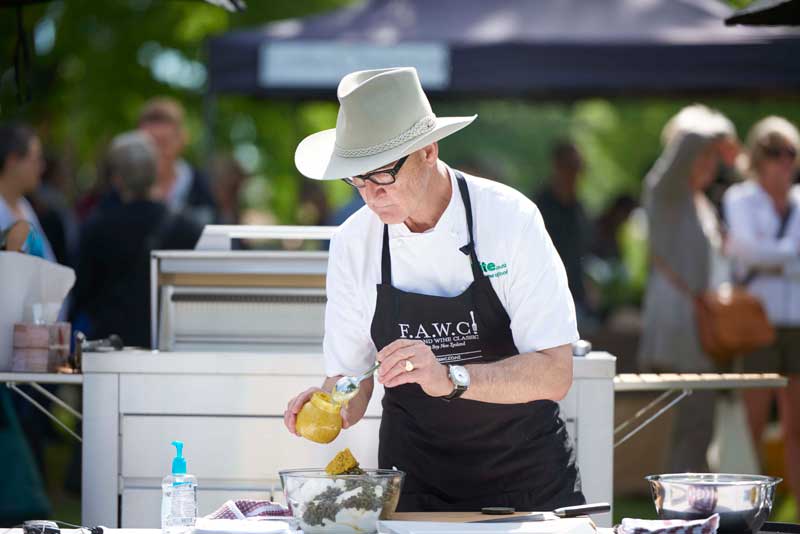 FAWC! Day Out, to be held at Black Barn Vineyards on 3 November, is the newest event on the New Zealand culinary calendar adding extra zing to the already successful Hawke's Bay Food and Wine Classic.
FAWC!'s big foodie day out is New Zealand's newest food and wine event
The one -ticket, one-day festival will bring together celebrity chefs, local wine and food producers and champions of Hawke's Bay's thriving food and wine industry in a programme of masterclasses, a showcase of boutique wines and artisan foods, and a market place of cooking and tasting stations.
Activity will be set in the picturesque grounds of the Black Barn estate, just five minutes from the village of Havelock North with a backdrop of the Te Mata hills and wide views of Hawke's Bay wine country. Guests can taste their way around the expansive estate at food and wine stations spread throughout vines, cellar buildings and the 'market round' where local growers and producers will be serving gourmet treats. More than 20 Hawke's Bay wineries, select craft breweries and local cider makers will offer continual tastings.
Wine experts from Hawke's Bay Winegrowers, celebrity chefs and prominent local restauranteurs will run a series of food and wine masterclasses throughout the day. Highlights include a 'School for Big Cheeses' with international artisan cheese expert Juliet Harbutt and a shucking session at the Depot Oyster Bar with New Zealand celebrity chef Al Brown.
In just seven years FAWC! has grown to become New Zealand's biggest food and wine festival with winter and summer editions drawing together an impressive series of creative events inspired by talented local personalities and the region's finest produce. The festival is now a target for discerning national and international visitors who relish the chance to rub shoulders with celebrity chefs, producers, wine makers and champions of New Zealand's thriving food and wine industry in one place at one time – and in one of New Zealand's most popular holiday destinations.
This year's FAWC! Summer Series features more than 60 events during the 10-day festival offering a variety of creative food and wine experiences in restaurants, cafés, vineyards, olive groves and garden settings in picturesque Hawke's Bay.
Known as the 'fruit bowl of New Zealand', Hawke's Bay is a productive region of fertile soils and a pleasant climate, that also claims the crown of oldest wine region in New Zealand – a story that goes back to 1851 when the first vines were planted by Roman Catholic Marist brothers at Mission Estate on the outskirts of Napier. Nearly 170 years later Hawke's Bay has matured into the country's second largest wine producer and provedore of an enviable array of other goods from the humble apple, avocadoes and honey, to artisan cheeses, olives, lamb, beef and seafood.
Hawke's Bay is a long-time favourite New Zealand beach holiday destination with high sunshine hours and numerous visitor attractions including spectacular coastal scenery and a world-renowned collection of Art Deco era architecture.