Mona Hamadeh grew up in the Shouf mountains, south-east of Beirut, where every family owns their own land and grows their own fresh fruit and vegetables. There she learnt all she needed to know from her mother and grandmother about cooking Lebanese food, which has a reputation for being the healthiest in the world.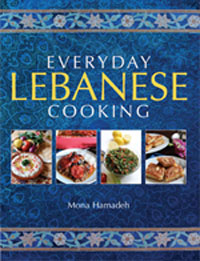 After a life time of cooking for her family and friends, as well as running courses in Lebanese cooking in the UK, Mona's tips, recipes and knowledge have been compiled into one beautifully illustrated and easy-to-use book.
Everyday Lebanese Cooking is an essential guide to making all the traditional foods of Lebanon. Starting with Maza, a variety of dishes that are perfect to share with large groups of family or friends, you can also learn to make your own Baba Ghanouj, Hummous and Tabouleh. For main courses, the author covers a selection of delicious meat, chicken and fish dishes – and wholesome meals using vegetables and pulses. The Lebanese mountain dwellers are used to satisfying themselves with vegetarian dishes if the local butcher, who only sells the meat he kills that day, has run out.
Bursting with Mona's love and passion for the Lebanon and infused with memories of her childhood, this book is an essential introduction to the delights of Lebanese cooking and presents an ideal diet for anyone feeling the economic pinch or simply wanting to lead a healthier lifestyle.
About the author:
Mona Hamadeh has been cooking Lebanese food and teaching others how to do the same for over 50 years. This book is a response to being constantly asked to share her recipes. Mona lives in Buckinghamshire.