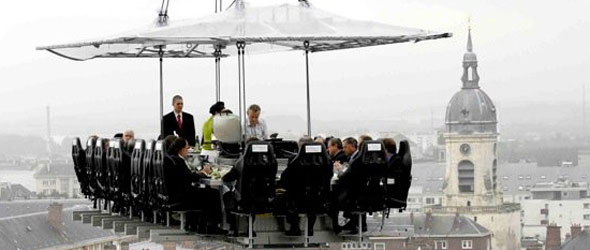 For just five days in June 2011 diners in Estonia's cultural capital, Tallinn, can enjoy champagne, aperitifs, lunch or dinner 50 metres in the air with spectacular views over the medieval Old Town, Tallinn's steel and glass business sector and the Bay of Finland.
Dinner in the Sky® can be enjoyed daily between 8th and 12th June, in Tallinn's Rotermann quarter, the transformed former industrial area between the Old Town and the sea. Guests harnessed into specially constructed dining chairs and seated with 21 other diners at a table, suspended to a height of 50 metres, and enjoy cuisine prepared under the auspices of award winning Executive Chef Rene Uusmees, a patron of modern Estonian cuisine.
High flyers in Tallinn are offered four choices of `lift length' and menu, from a 20 minute champagne & aperitif `taster' (29 euros pp), to an 80 minute four course meal with aperitif, wine and cognac, with the final dinner of the day served at sunset by the chef with Tallinn's skyline as a backdrop (84 euros pp). A 40 minute 3 course lunch and a 60 minute 4 course dinner is also offered.
MENUS:-
Lunch in the Sky
Starter
Marinated beetroot with goat cheese cream
Main Course
Roasted lightly salted salmon with lemon yoghurt, tomato and vegetable sauce with crayfish
Dessert
Gooseberry sorbet with berry salad and oat cookies
Dinner in the Sky
Appetizer
Lightly smoked salmon with sour cream-chives sauce and crisp cumin bread
Starter
Smoked eel with cucumber and dill jelly, onion cream and horseradish
Main Course
Baked beef with spring garden greens, parsley oil and Jerusalem artichoke cream
Dessert
Strawberry salad with cheesecake, apple foam and salty caramel