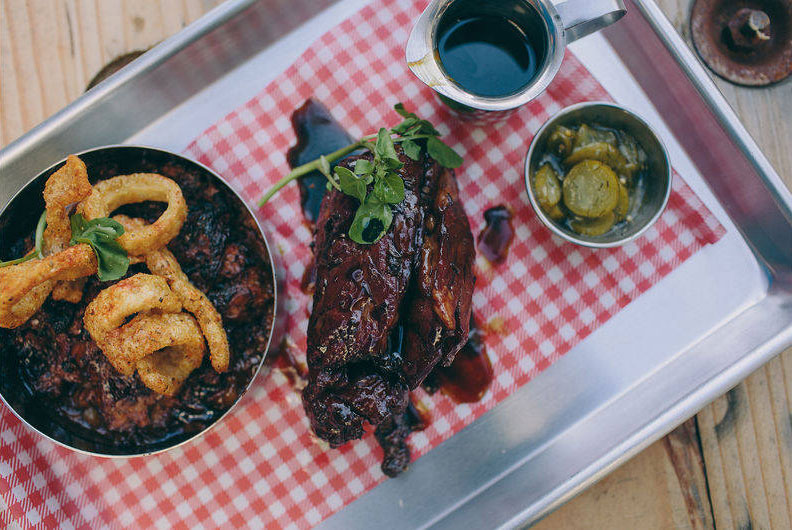 In Auckland's hippest precinct, a young hospitality duo is bringing a distinctly New Zealand flavour to a popular southern American cooking tradition, the BBQ.
Miss Moonshine's BBQ
Cooking 'low and slow' is the mantra at Miss Moonshine's – Auckland's bright new light in the hospitality industry.
The American style barbecue restaurant has just opened its doors and is bringing a taste 'of the southern states' to Auckland but not without some decidedly New Zealand twists.
The inner city suburb of Ponsonby seemed like a natural fir for Miss Moonshine's because of its great food spots, shopping, proximity to downtown Auckland and great public transport.
"Ponsonby is such a hub of activity and great foodie spots, we knew it was the ideal location for Miss Moonshine's as our restaurant is all about having fun as well as eating great food," says Annelise Clarke, one half of the Miss Moonshine's husband and wife team.
Her other half Ryan has been in hospitality for 15 years, starting as a dishwasher, working in bars and cafés to now running their own restaurant.
Annelise and Ryan fell in love with American style barbecue during a visit to the United States as well as sampling great barbecue from street food vendors in London. The long cooking process of meat appealed to the two but incorporating New Zealand's own distinct flavours into their meat was very important.
"We love the traditional American cooking techniques, but the great thing in New Zealand is that we don't have to be constrained by these.
"We celebrate the unique timbers and meat that we have in New Zealand and apply the low and slow cooking methods using our Yoder Smoker BBQ from Kansas."
All the meat used by the restaurant is sourced locally and is free range. During the cooking process the cuts can shrink up to 40% in size resulting in a rich, succulent final product.
The unique flavours from different timbers means the meat cooked at Miss Moonshine's has a distinctive New Zealand flavour unlike the usual applewood, hickory or mesquite used in America.
For beef short rib, brisket and lamb, Miss Moonshine's firewood of choice is pohutukawa . This coastal tree is endemic to New Zealand and often referred to as New Zealand's Christmas tree because of the crimson blooms that appear on northern coasts during the festive season.  They also use manuka, another New Zealand native wood, with pork and chicken.
The daily cook at Miss Moonshine's lasts up to 16 hours. Using the 'low and slow' method large, cheaper cuts of meat are used and cooked to perfection in the Miss Moonshine's barbecue.
Nothing goes better with barbecue than hot sauce and Miss Moonshine's has worked with award- winning New Zealand hot sauce brand Culley's to come up with some original sauces for their smoky meat flavours. Culley's source their chilli peppers from New Zealand growers and have recently won a gold medal at the 2015 World Hot Sauce Awards in the hot category and silver in the ketchup division. Miss Moonshine's has three custom-made hot sauces ranging from a mild BBQ sauce to an extra hot chilli sauce.
The line chefs work on a large kitchen pass made from the trunk of a giant macrocarpa tree that was taken from Annelise's family farm in Cambridge, two hours south of Auckland. The same trunk is also used as the front counter and as a table in the outside courtyard. Long black tables line the dining area perfect for sharing the smoky delights from the barbecue. The industrial style fit out fits well with the 1.5 tonne Yoder Smoker and is finished off by a smart artwork featuring a giant Black Angus cow on the back wall.
Staying true to their name, a number of cocktails are made with their own blend of 'moonshine'. The 'K Road' – named after Auckland's eccentric Karangahape Road area – features passionfruit moonshine, apricot liqueur, watermelon and cranberry juice, a colourful tribute to the city's most colourful street. Miss Moonshine's is a proud free-house so New Zealand's best craft beer is poured from the taps.
To test the market in New Zealand, Ryan and Annelise spent a long summer cooking at markets and events around the North Island. Straying from the traditional Kiwi idea of a barbecue, where meat is cooked quickly on a grill under a gas flame, the couple took their smoky offerings to the people and soon won a following for the American style. The pair knew they were on to a winner and so Miss Moonshine's restaurant was born.
But, as if that wasn't enough, the Moonshine's team have used their new business as the excuse for another innovation … the Street Food Collective.
With Miss Moonshine's now permanently installed, Ryan and Annelise couldn't quite leave behind their street food connections. The pair has set up the Street Food Collective in a courtyard opposite the Miss Moonshine's restaurant. Regular rotations of Auckland's best vendors set up shop in the quirky space and serve food to hordes of hungry patrons. Miss Moonshine's original food truck 'Herbie' takes top table in the courtyard and is used as the house bar. Vendors change as many as three times a day so there is always something new and exciting to try.
"This space also solves a lot of the problems that you encounter as a vendor by providing refrigeration, power, running water and a sheltered space," Annelise says. "Lots of people have referred to the Street Food Collective as an incubator because we are enabling small business the opportunity to be successful in an otherwise difficult market space."
Thursday through Sunday the Street Food Collective is the place to be with local DJs and musicians adding to the party vibe making it the perfect place to grab some dinner before heading out to the bars on the Ponsonby strip.
Being in the heart of Ponsonby means the team at Miss Moonshine's is always on the go. The area is home to some of Auckland's best restaurants and bars as well as great shopping.
"There are great shops around Ponsonby so everything we need is never far away. I love shopping at MAC and there are lots of great local designers such as Kate Sylvester, Karen Walker & Andrea Moore," Annelise says.
The couple love living in Auckland and its close proximity to a number of places and activities.
"When we get out of the city for a bit we like to go to vineyards on Waiheke, the beaches at Piha on the west coast and check out what markets and events are on, there is heaps to see," she says.
Find your way …
Ponsonby is an easy walk from Auckland City or a very short taxi ride. Miss Moonshine's and the Street Food Collective can be found down an alley behind Lot3, 130 Ponsonby Road.
credit: Miss Moonshine